Digital Marketing Award: Lindsey Rae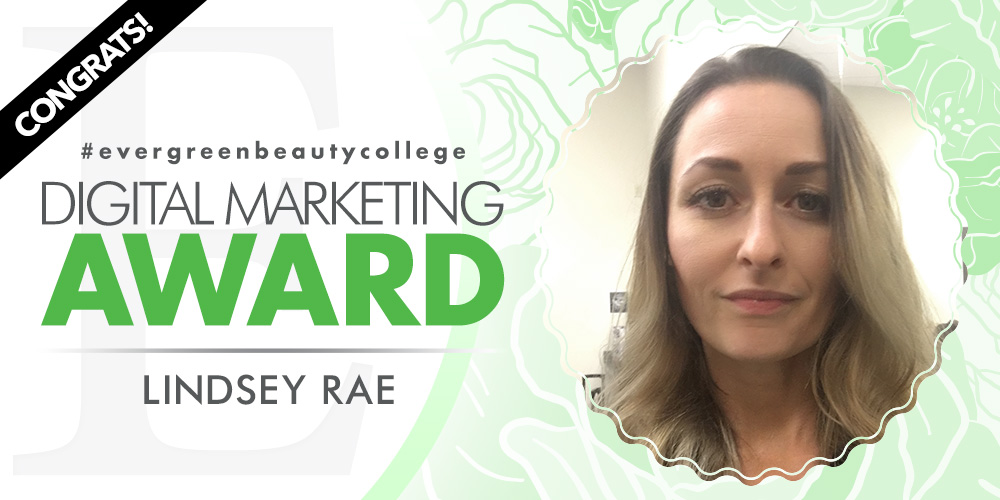 Evergreen Beauty College is proud to announce the winner of the Digital Marketing Award! This student goes above and beyond in her opportunities to showcase her work to the world. She is one of our talented esthetics students, Lindsey Rae. Congrats, Lindsey!
About Lindsey
Lindsey shared with us why she decided to pursue a career in esthetics.
"Before enrolling in the esthetics program I was teaching group exercise classes and doing personal training. [Those] are things I love, but it is difficult to make a living doing them. I chose the esthetics program because I enjoy performing all of the services that [go] along with it and because it is something [that] I can make a successful career in a growing industry."
We agree, Lindsey! There is a lot of potential to be successful in the esthetics career field! That's why we love it so much. Speaking of success, Lindsey told us what skills or techniques she believes she is most successful in.
"My strength in the esthetics program is waxing. This is something I have been doing since I was a teenager and I feel comfortable doing it. I love the end results of waxing because I can really see the difference and because it lasts a good amount of time.
"
Evergreen carries on the tradition of recognizing students who are doing well with our Digital Marketing Award because we believe that it makes our students stronger. We want to continue to foster the family-feel that our culture has!
One way that we promote a family-like culture is teaching communication. When students attend Evergreen, we want them to have all the skills that successful beauty professionals need to do well after school. This includes working with a team and talking with clients.
This is what Lindsey had to say about why her guests should continue to book with her, "Clients should book an appointment with me because I know how to talk to people and put them at ease. I am professional and thorough when I perform services and pay attention to details. I always check in with my clients to make sure they are satisfied with their experience."
The Evergreen Experience
"I chose this school because it offers the program I want. Evergreen Beauty College has high quality programs and instructors. I feel like I am getting a good education from an accredited institution that will help me succeed in my career."
We always ask our students to share why they chose to start school with us. Student feedback can help us recognize what our future and current students need to be great at what they do. We also asked her to share what she thinks is the most helpful part of our esthetics program.
"The pretests and vocabulary have been most helpful in learning the technical and scientific background of each service. The hands-on practice of the services have been helpful in actually performing the services and learning about what I need to improve upon."
The Next Step
We encourage all of our students to set goals. They should be setting goals while they are attending school and for after their graduate.
"I plan to gain experience in the field and eventually start my own business. I would like to have my own space and I would also like to travel around to clients. I would also like to incorporate my passion for fitness into my skincare business because I think these are both part of the wellness field and compliment each other."
We hope that Lindsey finds success wherever she roams! Before she graduates in May of 2017, you can book a skincare service with her at our student salon and spa*. Lindsey offered one last piece of advice for incoming students.
"It is important for students to do their own research about what they want to do before making the decision. They should be confident in their decision because going to school is a big commitment. Students need to understand that the cosmetology field is not just about doing someone's hair or skincare services. It is about becoming successful in business and building a career that can help other people."
If you're interested in seeing Lindsey's work, you can check out her on Instagram! If you're interested in learning the art of esthetics, check out our program!
*All services performed by students who are supervised by licensed professionals.